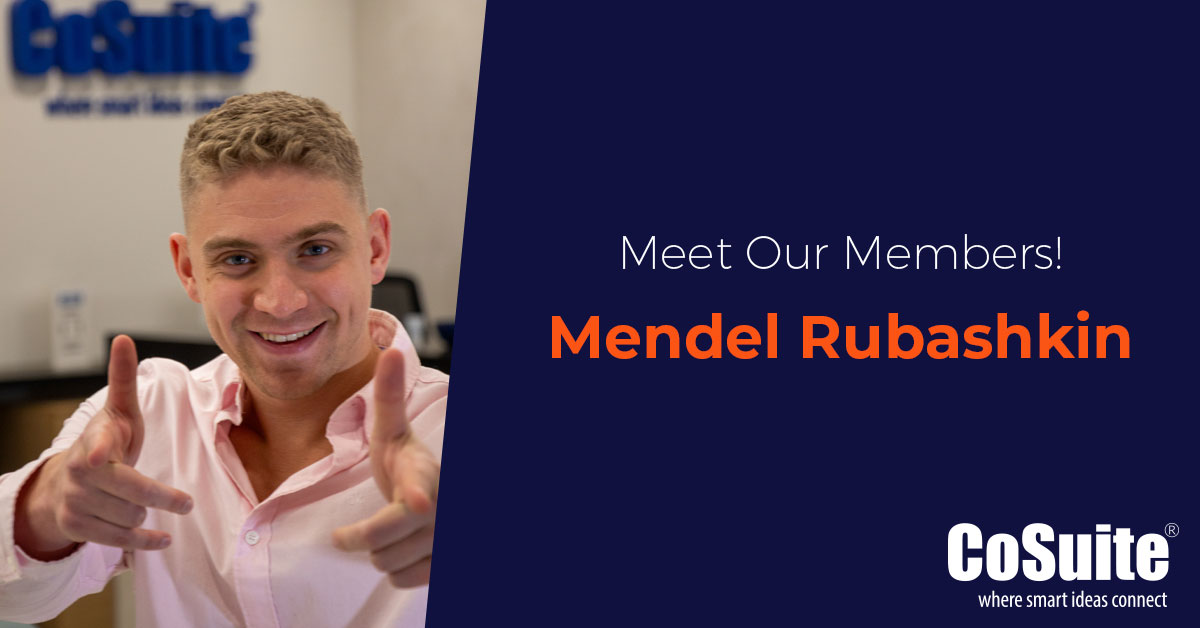 CoSuite Meet Our Members – Mendel Rubashkin
February 15, 2021
This month, we take an inside look at flexible shared office spaces through the lens of one CoSuite member, Mendel Rubashkin. Originally from New York, Rubashkin relocated to Miami in February 2020 and joined CoSuite Brickell in September 2020. The CEO of Madison Capital Mortgage Group, Inc.,  shared that his company is available "for all your residential financing needs." Introduced to the mortgage business straight out of high school, Rubashkin said he never looked back, adding that, "Being in a position to educate and help people achieve their goals is very meaningful to me."
When we asked why he chose CoSuite Brickell for his business, the former New Yorker said his choice of flexible shared office space in the Downtown Miami area hinged on a few different elements. "The highlights for me," he said, "are that it's beautifully designed and spacious, creating a great environment to work from." Rubashkin went on to say that, another determining factor centered on the fact that, "The management is very friendly and personable, as opposed to other shared office spaces that are so commercialized." Continuing, Rubashkin added, "I would recommend CoSuite to anyone that I know." Delving further into his CoSuite Brickell experience so far, Rubashkin had this to say:
How has your business been impacted by COVID-19?
With interest rates being at all-time lows, we have been busier during the COVID pandemic, which I am incredibly grateful for!
What is the most rewarding or fulfilling aspect of your job?
Besides the friendships and relationships that are formed each day, helping people achieve homeownership, especially those that never thought it would be possible, is a very rewarding feeling.
What's the biggest challenge that you have faced as a business owner (or on your career path) and how did you overcome it?
Finding the best talent is constantly challenging if you are looking to grow; however, I like to look at challenges as opportunities for growth and growth is always fun.
Who or what has been the greatest inspiration in your career journey?
My family has been the greatest inspiration in my professional journey.
Can you share some tips or words of wisdom for other professionals just getting started?
There's always a solution to every problem.
Up Close with Mendel Rubashkin
Rubashkin shared with us that in his free time he enjoys working out and going to the beach. When we asked him to share a quote from or the title of a book that speaks to him, Rubashkin referenced a quote by journalist, public speaker, and author, Michele Ruiz – "If people are doubting how far you can go, go so far that you can't hear them anymore." Adding his own take, Rubashkin said, "We live in a world where people are constantly watching your every move to watch you fail. Instead, we should empower others and their success." That's exactly what we are about here at CoSuite so we are thankful that he chose CoSuite Brickell-Miami as the home for his business.
CoSuite Brickell-Miami's private office suite model has helped many members continue to grow their business and thrive before and during the pandemic. Our shared office spaces, along with live receptionist service, a full business center, and our variety of exceptional amenities provide the tools you need to succeed, in a space and a community that promotes creativity, collaboration and safety. Contact us today to schedule a tour at CoSuite Brickell-Miami or CoSuite Boca Raton!