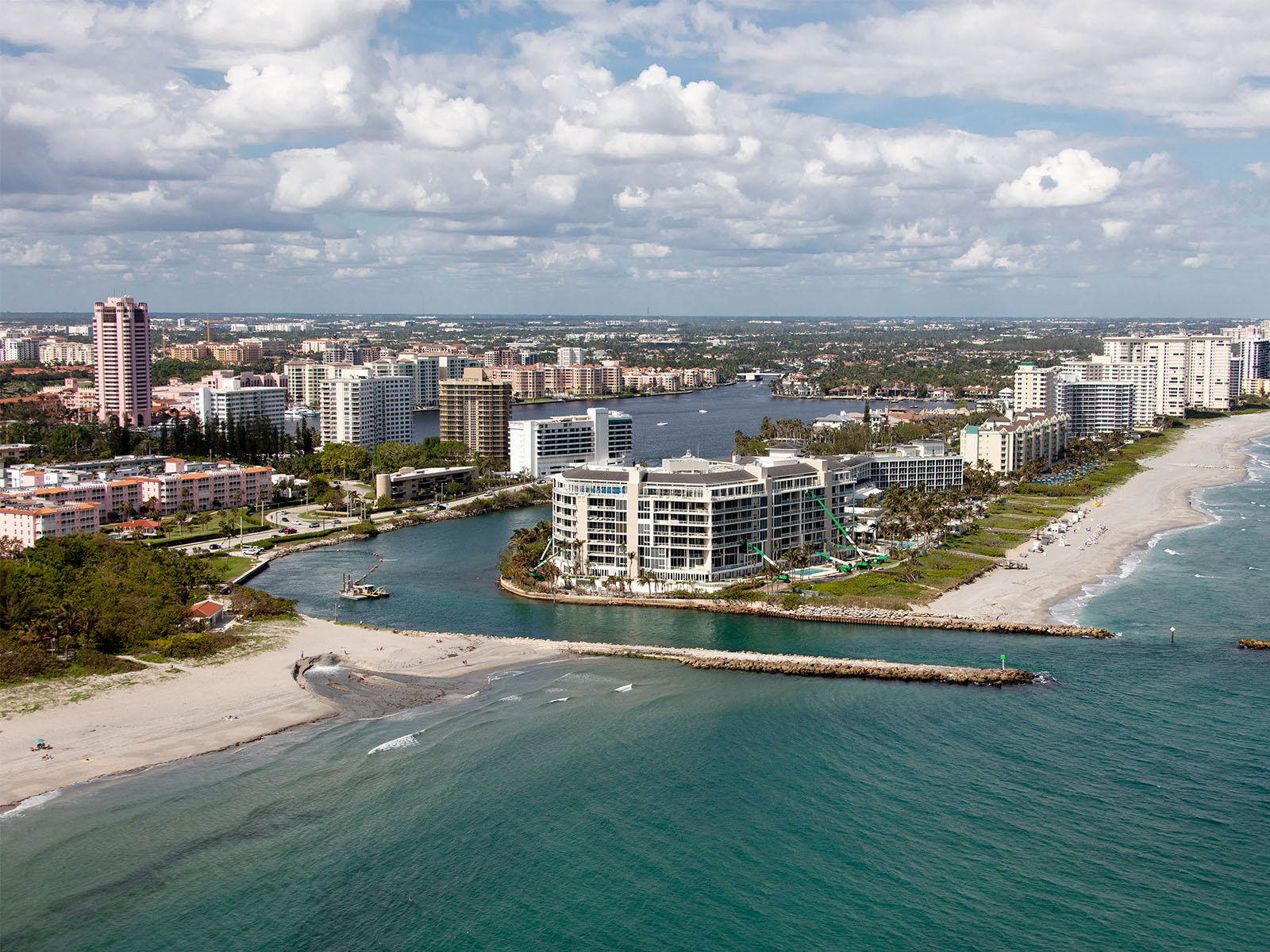 Boca Raton's Business Outlook 2020
March 5, 2020
Boca Raton, originally designed as an elegant vacation and residential destination, has lived up to its reputation over the years. Today, with its sugar-sand beaches, high profile beach resorts, luxury country clubs, and five-star shopping and restaurants, alongside its eclectic mix of modern and historic architecture, Boca's tourism sector is healthy and growing year by year. Discover The Palm Beaches (DTPB), Palm Beach County's tourism marketing organization, announced "record-breaking visitation numbers for 2018," and that "DTPB's year-end hotel performance data shows 8.02 million people visited the Palm Beaches from January to December (2018)." Redevelopment projects downtown, such as  Boca Raton's Mizner Park and the current construction of the opulent Mandarin Oriental's Residences have enriched the area's stellar good looks and its South Florida affluent style. However, Boca Raton's got a lot more going on in its economic picture than just tourism.
Originally the home of IBM's first desktop computer, technology factors into Boca's economy with an ever-evolving computer/software and communications technology industry. Along with aerospace giants, Pratt & Whitney, Sikorsky, and Lockheed Martin, many technologically advanced manufacturing firms call Palm Beach County home. Research institute, Florida Atlantic University, along with top national research institutes like Scripps and Max Planck, contribute to the rapid expansion of technological fields in addition to promoting life sciences and medical sciences. In addition to technology, life sciences and healthcare/social assistance, Boca's largest industries extend to professional services, retail, utilities, and finance. With easy access to many other industries, Boca Raton is ranked #19 on Forbes' Best Places for Business and Careers in the US.
Sustainable, cutting edge businesses
On the cutting edge of business and industrial supremacy for years, Boca thrives as a vibrant commercial center, in South Palm Beach County. Both Palm Beach County and Boca Raton share common goals "to ensure a healthy economy and maintain a business sector that's alive and well while protecting neighborhoods and the environment," according to Palm Beach County's Business Development Board.
A diverse corporate community
Boca's diverse corporate community includes innovative startups as well as large publicly traded corporations. Making Boca Raton your corporate headquarters has been incentivized by the 2010 Economic Development Fund, in order to attract companies to relocate and expand in the city. Boca Raton is ramped up for business progress with at least two organizations leading the way – The Business Development Board of Palm Beach County and The Economic Development Council of Palm Beach County.
A few years ago, Boca created an Economic Development Department at City Hall. Additionally, in downtown Boca, the Community Redevelopment Agency (CRA) assists growing businesses, expediting the review and approval process of business applications.
Top 10 places to start a business
Boca Raton was ranked in 2nd place, by Bloomberg Businessweek's listing of the top 10 places to start a new company in the US, "and entrepreneurs agree,"  Troy McLellan, president and CEO of the Greater Boca Raton Chamber of Commerce said. "Boca is also a great place to relocate your business." McLellan cited the Cancer Treatment Centers of America's recent relocation to the Boca Raton area, and Office Depot's decision to keep their global headquarters in Boca after the office supply giant's OfficeMax merger.  Businesses like the "pro-business environment, low tax rates and great quality of life," McLellan said.
Top boomtowns in America
In 2019, Boca Raton was ranked 20th in "Top 20 Boomtowns in America," by SmartAsset.com. Analyzing economic data of 500 US cities, SmartAsset.com finds the "Top Boomtowns in America." What makes a boomtown? A boomtown is characterized by prosperity and robust development and often a desirable place to put down roots, economic growth provides employment opportunities and draws new residents to these boomtowns.
Interested in growing your business in Boca Raton in 2020? At CoSuite, our coworking memberships include state-of-the-art technology, top-notch Haworth furnishings and all of the amenities and services business owners require during the course of a business day. Offering short- and long-term solutions, CoSuite caters to your business space needs, featuring virtual offices, private offices, coworking spaces, and conference rooms. Our memberships meet the needs of traveling professionals who may only need a workspace for an hour or two as well as private offices where you can work to grow your business. And more importantly, as your business grows, so can your space at CoSuite. We believe that businesses in Boca Raton and the surrounding areas deserve only the best space to grow their companies, regardless of the industry. CoSuite is South Florida's industry leader in business space solutions.
Take a tour of our Boca Raton office space to see how we can help you grow your brand!