Conference Room Rental in Brickell: Flexible Spaces for Productive Meetings
When it comes to hosting important business meetings, training sessions, onboarding programs, or seminars, having a dedicated conference room rental can make all the difference. At CoSuite, we offer premier conference room rentals in the vibrant neighborhoods of Brickell and Boca Raton, providing you with flexible and fully-equipped spaces to meet your professional needs.
With our conference room rental in Brickell, you can create a conducive environment for collaboration and productivity without the hassle of leasing or renting a full office space. Whether you require a conference room for a day, a week, a month, or even longer, CoSuite is your go-to solution for professional meeting spaces in the area.
Impress your clients and captivate your audience by conducting your next client meeting or seminar in one of our well-appointed conference rooms. Designed with modern amenities and state-of-the-art facilities, our meeting rooms in Brickell offer a professional and comfortable setting to leave a lasting impression on your guests.
Explore our conference room rental options below. We understand that every business has unique requirements, which is why we offer conference rooms in a range of sizes. Whether you need a cozy space for intimate meetings or a larger room to accommodate a sizable group, our flexible meeting room options can cater to your specific needs. From five-seat boardrooms to spacious venues that can host up to twenty attendees, we have the perfect conference room to meet your requirements.
We invite you to schedule a tour and witness firsthand how our conference room rentals Brickell can elevate your business. Contact us today at (561) 394-3525 or fill out our user-friendly contact form  below, and our dedicated team will be delighted to assist you. Experience the convenience, professionalism, and flexibility of CoSuite's conference room rentals in Brickell and Boca Raton.
Medium Conference Room
Our medium conference rooms are perfect for groups up to 6 looking for the ideal setting to get down to business. With full access to a range of state of the art technology, along with a wealth of amenities, CoSuite®'s medium conference room is exactly what you're looking for.

*Please inquire for daily rates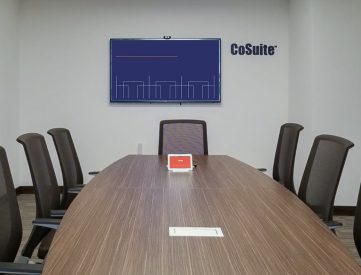 Large Conference Room
Capable of seating between 8-10 people, our large conference room brings the comfort and technology you need to conduct business with your entire team.

*Please inquire for daily rates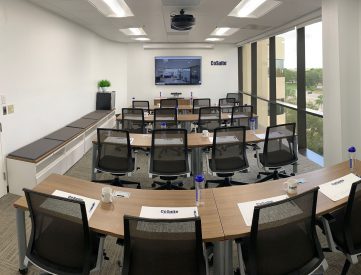 Executive Conference Room
Whether it be for a board meeting, a training seminar, or other occasion, the CoSuite® executive conference room is here to revolutionize the way you meet. With an 18-20 person capacity, video networking capabilities, and an unrivaled number of premium features, our executive conference room is guaranteed to be the difference maker during your next meeting.

*Please inquire for daily rates