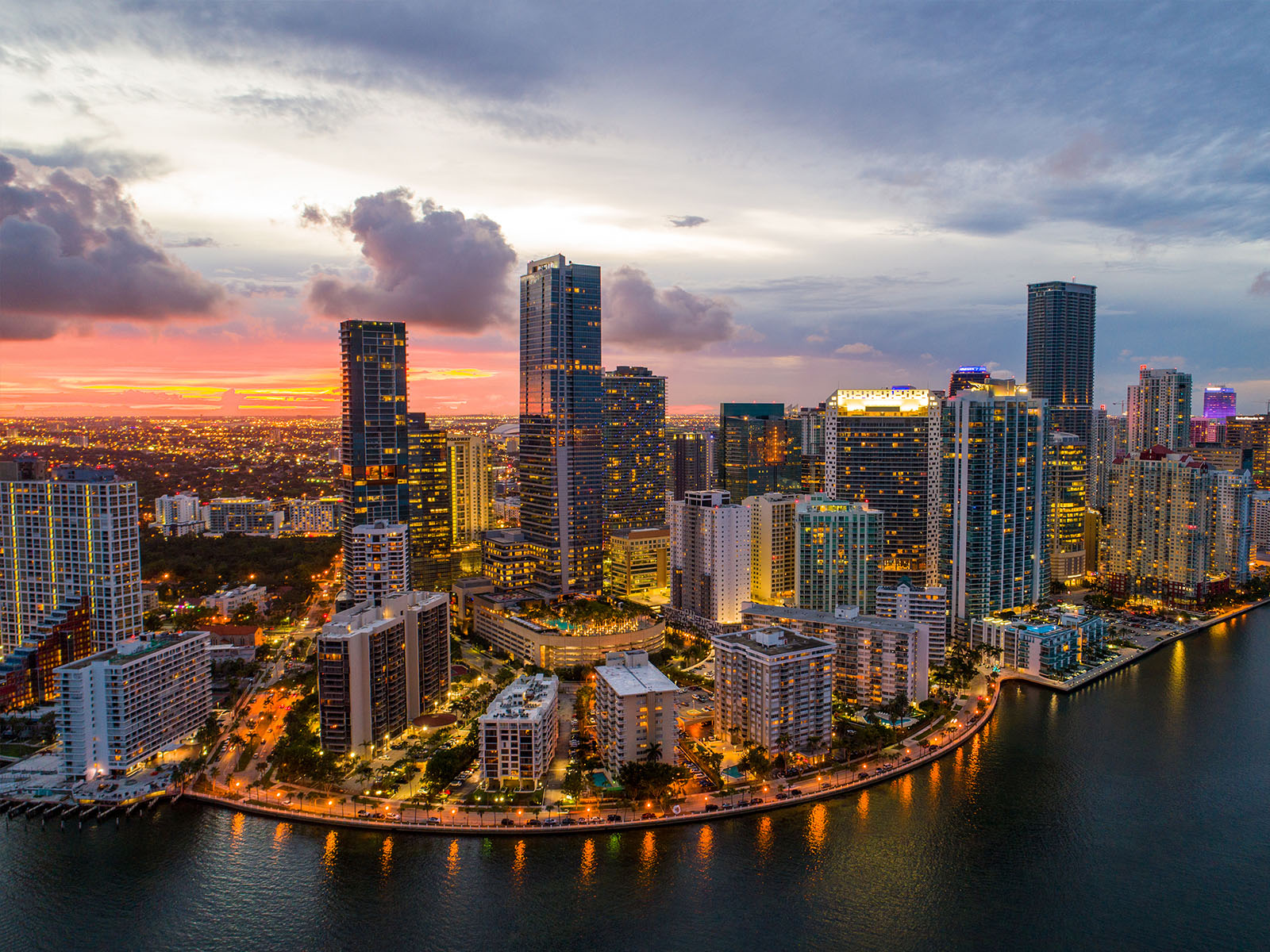 CoSuite Gets Ready to Rethink Coworking in Downtown Miami
March 9, 2020
Downtown Miami needs no introduction as a hotspot for innovation, cultural diversity, glittering skyscrapers and scenic waterway views. Just south of Miami's Central Business District (CBD), Brickell features a dense collection of residential luxury condominiums and apartment towers that rise to downtown Miami's extravagant upscale profile. In the last fifteen years, Brickell's low profile neighborhood of stately mansions and a handful of banks has been transformed. Today, Brickell ranks as the third-largest banking center in the US, behind New York City and Charlotte, NC. Due to the influx of investment by Latin American companies, Brickell's population has doubled and the area is home to 53 banks. Insurance and real estate companies account for 17% of jobs on Brickell, hosting the Central American and Caribbean advisory firm, Pan American Finance and French firm, Credit Agricole, just to name a few typical businesses in Brickell.
Coworking Spaces Grow up
With many opportunities to grow your business in this South Florida commerce mecca, where you work makes a difference. As coworking spaces reshaped the way people work, many professionals are outgrowing coworking spaces, havens for hipster, tech startups and looking for a viable alternative to leasing your own space, outfitting it and surviving in the competitive Miami marketplace. Brickell is home to a number of coworking spaces, some with no actual space to rent but a good place to meet clients, one that promotes a home feel and then the other usual suspects that you find in most larger urban areas. Get ready Brickell – we think you're going to find your dream workspace at CoSuite Brickell.
The CoSuite Difference
CoSuite is designed to assist in enhancing your business, with our professional workspaces, live receptionist services, a full-service business center with multifunctional printer services, other business-class office equipment, and many amenities. From our selection of membership plans that include virtual offices, executive office suites, coworking spaces, and conference rooms, we believe your business should have everything you need to scale up to the next professional level. Along with the amenities that made coworking popular, such as free super-fast Internet and complimentary coffee, tea, and water, members enjoy state-of-the-art technology and award-winning Haworth office furniture in each office space.
Our location at 800 Brickell is undergoing a complete update including the addition of an outdoor terrace and excellent views of downtown. From mid-March through the end of the month, a temporary sales office will be available but if you are looking to set up a Hard Hat Tour of the space, you can schedule an appointment by calling (305) 614-3060.
Downtown Attractions
Not only is CoSuite Brickell conveniently located close to major roadways, Miami's free 5 am to midnight Metromover/Metrorail system serves Brickell and connects to major destinations seven days a week. Brickell is home to many popular Miami restaurants, including several committed to serving only sustainably sourced, fresh seafood, such as Truluck's located at 8th and Brickell, just a stone crab's throw away from our location and just across the bay from Miami Beach. Just around the corner, The River Oyster Bar has been a favorite Brickell neighborhood eatery for 15 years. For a secluded escape from the bustle of Brickell, a three-story indoor/outdoor Pan-Asian restaurant, Komodo, whisks guests into its overstated décor, providing a unique and exotic dining experience.
Nightlife and Luxury Accommodations
While the Shops at Mary Brickell Village spans two blocks and is known for bringing many new stores and eateries to the Brickell neighborhood, the nightlife generated by lavish, upscale bars like Baro and Blue Martini, restaurants such as Draku Sushi, Oceanaire Seafood, and high end retail extends from the lifestyle center shopping area throughout Brickell, mostly up and down Miami Avenue.
Downtown Miami's luxury hotels boast elegance that transform the area's skyline. Splendidly Lavish Skyline, Brickell's "creative cocktail of sophistication and playfulness," features world-class décor by Philippe Starck, 124 rooms, "unforgettable dining and an incredible pool deck." One of Miami's tallest buildings, the renowned Four Seasons Hotel rises 70 stories above the heart of Brickell, the hotel features a "two-acre rooftop pool terrace, surrounded by palm trees and seventh-floor views," plus, the hotel's EDGE Steak & Bar restaurant.
CoSuite Brickell – Your New Event Space
When your plans call for an upscale space for a business gathering, CoSuite Brickell features conference rooms available for corporate meetings, as well as your next corporate social event. CoSuite conference room rentals include snacks and beverage service and can accommodate up to twenty people. With a full kitchen and access to other larger areas, such as the building's courtyard plaza, CoSuite Brickell makes a great space for product launches, corporate holiday events, networking receptions, and other celebratory occasions.
With coworking spaces and private office suites that fit your growing brand's evolution, CoSuite Brickell is ready to help you enhance your business operations. Flexible plans that grow with your business needs, with live receptionist service, mail services, many amenities and 24-hour access to facilities for members, CoSuite Brickell is all about best serving your needs. Work in a space that inspires you to grow – join us at CoSuite Brickell.
Call (305) 614-3060 today to set up an appointment for a private on-site tour of the space! We know you'll love what you see.