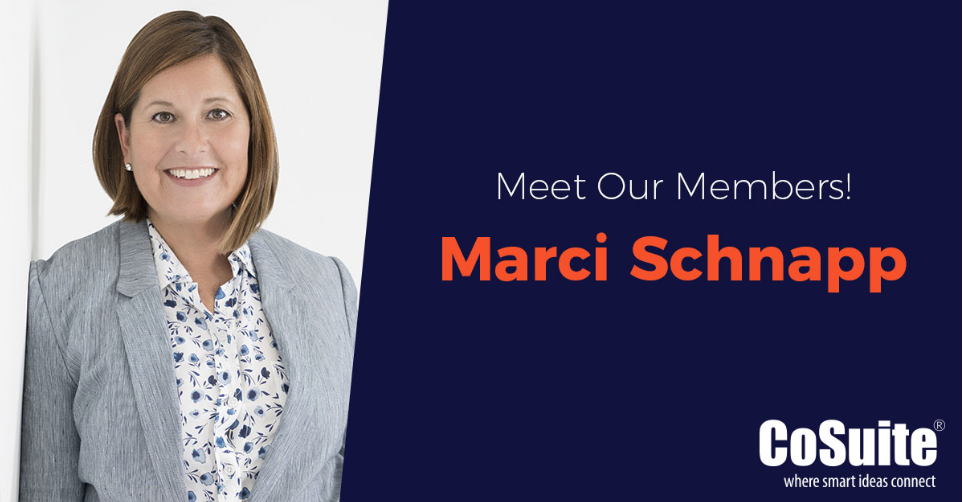 Cosuite Meet Our Members – Marci Schnapp
May 19, 2020
Shared, flexible office spaces have been changing the nature of workspaces for almost fifteen years now. During this time, coworking spaces have evolved from the domain of hipster tech startups to the preferred work environment for small, medium, and large companies. At CoSuite, we specialize in private office suites in upscale, contemporary surroundings to help your business grow. Now, as we are all experiencing a different world and a different way of approaching most aspects of our lives, CoSuite Boca Raton takes an inside look at how our members are dealing with opening back up after the COVD-19 pandemic.
An Inside Look
This month, we take a closer look at Marci Schnapp, Founder and President of Teamability, LLC. Beginning her career in recruiting in 1998, Marci founded New Media Links recruitment + representation, followed by Xsearch (Executive Search for eBusiness) and TeamQuest Advisors, in Toronto, Canada. TeamQuest was the first platform of its kind to use Teamability® data for Talent Solutions. Today, TeamQuest is an award-winning assessment system that predicts the quality of a person's performance on an organization's team. Marci shared more about her business, saying that, "Teamability tech and methodology," adopted in 2009, "provide an objective, reliable, and sustainable means to create progressive and team-centric companies and organizations." Teamability creates high-performance teams, increases ROI, and reduces stress and turnover. "It's a game-changer," Schnapp said, "for leadership, HR, recruiting, and organizational development." Moving her business to Boca Raton after purchasing Teamability technology from its inventors, behavioral scientists, Dr. Janice Presser and Dr. Jack Gerber, Marci chose CoSuite Boca Raton as the place she wanted to grow her business.
How did you become interested in this industry?
When I was 17 years old, my grandmother, a recent widow, made dinner for me every night. As we sat and talked and ate, I realized she needed something more to do than to make dinners for me. I said, "Nanny, I think you need a job!" She proclaimed she did not, she had never had a job and she did not know how to go about even getting a job. I told her not to worry, I would help her, and I did. We walked around the shopping mall across from her apartment, I helped her fill out the application forms and I asked to speak to the store managers. I explained to the store manager how great my grandmother was at putting nice outfits together and how stylish she always is. Long story short – my grandmother got a job – she was a top-selling salesperson and she loved working, she made new friends and had some income!
How has your business been impacted by COVID-19?
My business has slowed down in certain areas and picked up in others. I have been working from my home and the office. I have not had any face to face meetings – which I miss, like everyone else.
How are you adjusting to being back at work at CoSuite after the COVID-19 pandemic?
I love being back at the office; I love everyone who works in the office! The staff is amazing and the other tenants are very nice. I have made many new friends; the office is always spotless and my view is terrific. In fact, I see rainbows after the rain from my office. Also, the coffee is excellent and there are always snacks if I need one!
What is the most rewarding or fulfilling aspect of your job?
I enjoy helping my clients find talent to grow their businesses and I love helping people pursue their career goals.
What's the biggest challenge that you have faced as a business owner (or on your career path) and how did you overcome it?
I've had so many challenges over the years. Obtaining my E2-Visa to come to the US was a big challenge. I took it one step at a time and remained calm throughout the process. I overcome things by staying calm, doing my research, and relying on subject matter experts.
Please share with us a little about your experience at CoSuite. When did you become a member? Why did you select CoSuite? What has been the best part about working at CoSuite?
I became a member in January 2020. I selected CoSuite for many reasons including the location, the amenities, the staff, and the security.
Who or what would you say has been the greatest inspiration in your career journey?
When I started my career, my inspiration was to take care of myself and have a good life that I enjoyed. Now, I want to continue to build my business for my son. I am so proud of him and want to show him that anything in life is possible if you set your mind to it and put in the effort.
Can you share some tips or words of wisdom for other professionals just getting started?
Yes. Don't let what "should be" cloud your judgment – look at what "is"!
Up Close with Marci Schnapp
In her free time, Marci enjoys spending time with her husband and son. To keep fit, the Teamability owner swims and practices yoga. An avid reader, Marci shared the book, A Woman's Worth by Marianne Williamson, saying that this book changed her life. "It taught me anything is possible," she said, "and to believe in myself." Marci also shared a quote
from Teamability technology's co-creator, Dr. Janice Presser. "We, as humans, affect each other profoundly, and it is the way we affect each other that determines our value to our organizations." Marci shared that this quote taught her that everything in life revolves around creation and that helping others is the key to helping ourselves. She concluded, "Applying this measure to evaluate people for positions or jobs is the best possible measure."
At CoSuite Boca Raton, we create an ideal flexible office environment that will help propel Marci Schnapp into the next phase of her business success. Things may be a little different as we move back into our business spaces, but CoSuite will take every precaution to keep you and your staff safe and healthy. Let us help grow your business, one day at a time, in style!