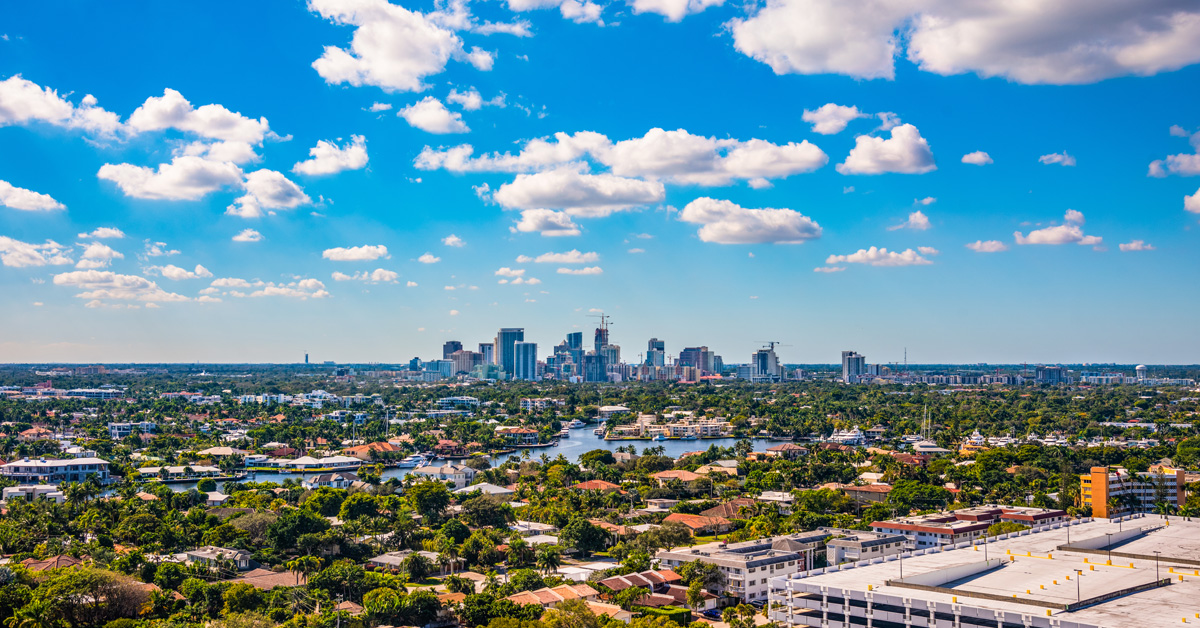 CoSuite's Guide to Work & Play in Boca
September 16, 2020
CoSuite knows the importance of loving where you work. And with all the amenities you need to run your business right at your fingertips, you will love being a member of CoSuite. CoSuite offers fully-equipped meeting rooms, private flexible offices, and much more. This is a location you and your employees are sure to enjoy while giving you the competitive edge to help your business grow. Our Boca Raton location provides you with high-end office space in a vibrant community where you can both work and play. Because CoSuite Boca Raton is centrally located near both major highways (I-95 and the Florida Turnpike), it makes meeting with your clients and colleagues easy and convenient.
CoSuite has 35 upscale suites, 12 dedicated desks, 3 conference rooms, and a lounge area with work pods spanning an impressive 10,000+ sq. ft situated in the heart of Boca Raton.  Members of CoSuite have access to a gourmet coffee bar, snacks, complimentary Internet/Wi-Fi, and free covered parking. We also offer virtual offices, which include a mailbox and use of our prestigious Boca Raton business address. Outfitted with top of the line furnishings, members and visitors alike feel the high-end vibe that CoSuite personifies.   Our 3 state-of-the-art conference rooms can accommodate a range of needs, from a small professional huddle room to a full-size board room/training room. All conference rooms have Skype/Zoom meeting capabilities and 65-inch flat-screen TVs.
Not only is Boca Raton a great environment for residents and tourists, but it's also a great location for businesses to attract employees and entertain clients. Just minutes from CoSuite Boca Raton, you have some of Palm Beach County's famous beaches and world-class golf courses. Boca is also home to a variety of fine hotels and an active art scene. A spicy nightlife includes a vast array of fine dining restaurants and chic cafés for those with a foodie flair, as well as an exciting live music culture. Shopping is big in Boca at its renowned, upscale Town Center and Mizner Park.
If you work at CoSuite Boca Raton, we want you to be familiar with the area so you can run errands, pick up lunch, and take care of your child's drop off or pick up at school on your way to or from the office. We are located right off I-95 and just minutes from the Florida Turnpike making your commute as stress-free as possible. Additionally, if you need to travel for business, CoSuite Boca is conveniently located a short drive from the Boca Raton Airport Authority and between the Palm Beach and Ft. Lauderdale International Airports. When the workday comes to an end at CoSuite, here are some suggestions for places you'll want to check out near the office.
Max's Grille – Grab a bite or a drink and hangout
404 Plaza Real, Boca Raton, FL 33432
Defined as a modern American bistro, Max's Grille is on a mission to make your dining experience pleasurable and "not like any other." Casual with creative menu items that range from chopped salads and chicken wings to grilled salmon, baby back ribs, and local cuisine, Max's Grille even offers specialties for your dog. With an outdoor and indoor bar/lounge area, happy hour features Bites Boxes: an array of crispy, savory apps that go perfect with their wide selection of trending and traditional cocktails. A long time favorite in Mizner Park, Max's Grille is the place to greet, meet, and have a deliciously different dining experience.
Farmer's Table – Fresh-Healthy-Delicious
1901 North Military Trail, Boca Raton, FL 33431
With a commitment to fresh food and clean ingredients, the focus at Farmer's Table is always on fresh, healthy, delicious, satisfying dishes. There is also the option to enjoy Farmer's Table Express where you can enjoy a healthy meal to go so you can enjoy their dishes all week long.
Houston's – Serving you with pride and good food
1900 NW Executive Center Circle, Boca Raton, FL 33431
Always a great choice, Houston's has something for everyone on their menu of American classics prepared from scratch daily – bread is baked daily, fish is selected and fileted in-house daily and burgers are made from house-ground brisket and chuck.
Cheesecake Factory
5530 Glades Road, Boca Raton, FL 33431
With a menu varied enough to encompass every type of cuisine, this is always a good choice. Whether you prefer to sit at the bar and have a drink with a quick bite or a sit-down meal is more your speed, you'll always have the choice to order dessert from their decadent cheesecake menu. This location is easily found just outside Town Center on the corner of Glades Road and Butts Road.
Seasons 52
2300 NW Executive Center Drive, Boca Raton, FL 33431
With a rotating menu that highlights the season's best produce, their American dishes are always a hit and full of flavor. They also have a list of 52 wines to choose from and the service is top-notch.
Town Center at Boca Raton – Shop and eat 'til you drop
6000 Glades Rd, Boca Raton, FL 33431
One of South Florida's most popular luxury shopping destinations, Town Center at Boca Raton features many exciting dining and drinking options, including The Capital Grille, Legal Sea Foods, and many other cutting-edge culinary venues.
True Food Kitchen – Located near the Nordstrom entrance, True Food Kitchen celebrates healthy food. "We invite our guests to become a part of a world where great tasting food and thoughtfully crafted beverages – shared in an environment of infectious positivity – can be the foundation for a life well-lived."
In addition to Nordstrom and Neiman Marcus, Town Center at Boca Raton also features four other department stores, Saks Fifth Avenue, Macy's, Bloomingdale's, and Sears. Other retailers located in this community center of 220 stores are:

The Apple Store
Tiffany & Co.
Louis Vuitton
Tory Burch
Lilly Pulitzer
Recently completed – Terrace at Town Center features an interesting and irresistible array of new lifestyle shops.
Mizner Park
327 Plaza Real, Boca Raton, FL 33432
This elegantly whimsical, classical Mediterranean revival town center offers something for everyone. Along with Max's Grille, Mizner Park's downtown lifestyle center features many other cafés and restaurants, with exceptional fare and some with great happy hour deals, as well. After dinner, take in a show at the Centre for the Arts live stage or outdoor amphitheater, located on the north end of the lifestyle center. Located in the same area, the Boca Raton Museum of Art and an international network featuring over 600 emerging artists, the exquisite Carré d'artistes gallery always features unique contemporary art.
Gyms and Fitness Centers
Whether you like to work out in the morning or in the evening as you head towards home, there are several gyms and fitness centers near CoSuite Boca Raton that you may want to take advantage of.
Youfit Health Clubs – 60000 Glades Rd #1410, Boca Raton, FL 33431
Life Time – 1499 Yamato Rd, Boca Raton, FL 33431
Orangetheory Fitness – 2240 NW 19th St, Boca Raton, FL 33431
LA Fitness – 4950 Technology Way, Boca Raton, FL 33431
Focus Functional Fitness – 141 NW 20th St #E-11, Boca Raton, FL 33431
Hospitals
Just a short drive from CoSuite Boca, you will find several hospitals and medical centers making it convenient for you to schedule medical appointments as needed without losing a whole day at the office.
West Boca Medical Center
Boca Raton Regional Hospital
Lynn Heart & Vascular Institute
Residential Areas
If you're interested in shortening your commute, these residential areas are just minutes from CoSuite Boca Raton.
Woodfield Country Club
The Vistas of Boca Raton
The Oaks of Boca Raton
Villagio Reserve
Colleges & Universities
Many of our members are interested in pursuing their degree and although online options exist, it's nice to know there are several options convenient to the office.
Florida Atlantic University – 777 Glades Rd, Boca Raton, FL 33431
Lynn University – 3601 N Military Trail, Boca Raton, FL 33431
Palm Beach State College – 4200 Congress Avenue, Lake Worth, FL 33461
Daycare Centers
Conveniently located child care options are important for our members and there are several options you will want to consider visiting when doing your research.
West Boca Raton KinderCare – 20650 95th Ave S, Boca Raton, FL 33434
Early Learning Academy – 2300 Yamato Rd, Boca Raton, FL 33431
La Petite Academy of Boca Raton – 10190 Calle Comercio Dr, Boca Raton, FL 33428
Busy Bees Academy of Learning – 250 NW 20th St, Boca Raton, FL 33431
"A" Rated Schools
For our members with school-age children, schools with a grade of "A" are a priority and if they're close to work, that's a benefit that can't be overlooked.
Boca Raton High School – 1501 NW 15th Ct, Boca Raton, FL 33486
Addison Mizner Elementary – 199 SW 12th Ave, Boca Raton, FL 33486
Private Schools
If you are interested in private school options for your children, there are several to consider that are near CoSuite Boca Raton.
Pine Crest School – 2700 St Andrews Blvd, Boca Raton, FL 33434
French American International School of Boca Raton – 2500 NW 5th Ave, Boca Raton, FL 33431
Saint Andrew's School – 300 Jog Road, Boca Raton, FL 33434
Advent School Boca – 300 E Yamato Road, Boca Raton, FL 33431
Beaches and Water sports
Known for its two-mile stretch of pristine beaches, Boca's lifeguard-protected recreational areas offer isolated and serene areas to take a break or take your family for the day. Boca's opulent lagoon offers superior on-shore fishing, with plenty of reefs for bottom fishing. Boca's proximity to the Gulf Stream makes this South Florida gem a top fishing destination.
Golf, golf, and more golf
With so many golfing opportunities in Boca Raton, it might be difficult to decide which course to play. Private clubs and municipal courses abound. Some courses featuring PGA pros include:
Osprey Point Golf Course – 12551 Glades Rd, South County Regional Park
Boca Raton Resort & Club – 501 E Camino Real, Boca Raton, FL 33432
Boca Raton Municipal Golf Course – 8111 Golf Course Rd, Boca Raton, FL 33434
Boca Raton, designed as a luxury vacation destination, offers many opportunities as a spot to visit often or as an excellent place to put down some roots. With a bustling economy, driven by South Florida's tourism sector, Boca's Florida Atlantic University also supports the economy. Boca is home to the corporate headquarters of Office Depot, ADT, Cancer Treatment Centers of America, Evert Tennis Academy, and Bluegreen Corporation.
CoSuite Boca Raton is ideally situated to host your business in an upscale, contemporary flexible office environment that features private suites, live receptionists, and everything you need to grow your business. Choose CoSuite Boca Rat