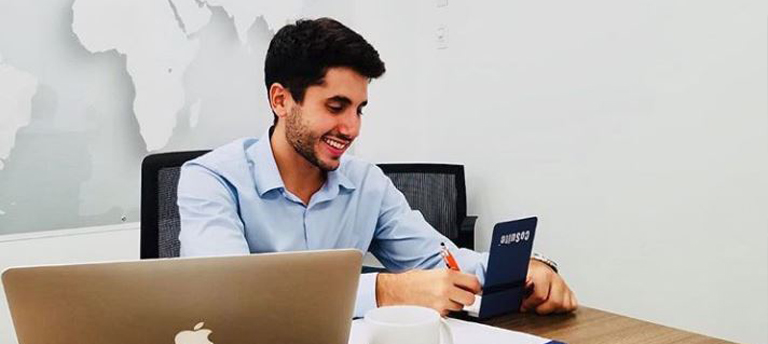 Find Out Why Coworking is Here to Stay
June 3, 2021
According to many recent studies, research has found coworking to be the future of many companies' corporate culture. Coworking has reinvented and redefined the "office culture" environment permanently. With over 30 million employees working remotely, the shift to coworking is expected to rise in demand. Studies have shown that coworking fosters innovation, increases visibility, and has had a positive impact overall on employee satisfaction.
Advancements in mobile technology was changing the way we work, even before the pandemic
Before the pandemic changed our views on workspaces altogether, mobility was beginning to shape the way people wanted to work. Coworking, or flexible shared office spaces, made it possible for business professionals to work where they wanted to, in community lounge areas, outdoors on patios, stashed away in cubby holes, at shared desk spaces, or secluded in private office suites. Large companies were utilizing the versatile nature of flexible spaces to capitalize on bringing remote team members to work on projects and arranging for remote teams to work together in place of investing in a satellite office. As traditional offices started to adapt some of the innovative ideas that attracted workers to flexible, shared office spaces and larger companies showed interest in anchoring coworking spaces, at the enterprise level, the COVID-19 shutdown, in effect, leveled the playing field between traditional office models and flexible shared office models.
Working from home
As most workers shifted from working in the office to working from home, employers and employees alike found that flexibility could be a good thing. Employers learned that employees working from home was not only a successful idea but it saved the company a lot of overhead in running their businesses and investing in immediate modifications to a touchless, socially distanced world. Also, employees didn't miss their soul-sucking commutes into the office, five days a week. As people stopped driving their cars so much and airplanes remained grounded, the planet got a much-needed break as well. However, when employers wanted workers to keep working from home and remote workers were ready to work anywhere except home, coworking spaces began to play an important role in balancing out these two options.
Hybrid work styles may become the norm
Even though some recent surveys found that only 15% of remote workers say they want to work from home from now on, Kate Lister, Global Workplace Analytics' President, said, "the COVID-19 pandemic will be a 'tipping point' for a tsunami of new WFH programs."  According to Lister, she "expects between 25 and 30 million Americans to regularly work from home in the next two years – an increase from the five million that currently do so part-time or more now."
Between going into a central office and working at home, flexible shared desk spaces provide many different ways to bridge gaps and create new company cultures. Employers can rent a space for remote workers that will get these workers out of the house a few times a week and connect with their local business communities. Some companies could join local coworking/flexible office spaces and allow their employees to work from home some days, work in the office some days, and work at a flexible shared office space on other days. For some companies, flexible, shared office spaces for teams offer many benefits for the entire company.
Innovation
Flexible, shared office spaces foster innovation for larger companies. Working alongside other coworking/flexible shared space members allows your employees the opportunity to engage with other business professionals. Exposure to new and different points of view and ideas from other members can help stimulate innovation within companies. Employees are also energized by the productive atmosphere at coworking spaces.
More exposure for your brand—more opportunities for networking
Larger companies can take advantage of the expanded exposure for their brands at coworking spaces as well as connect with other businesses and resources that can grow their company. Building relationships at coworking spaces, companies are privy to a talent pool of business professionals. This can expedite your hiring process by allowing you to select from candidates whose chemistry and credentials match your search for the right employee. Networking with other members can also provide your company with a pool of freelancers to help with special projects such as website design, more effective content, and IT innovations you want to incorporate into your company's future.
Collaboration
Large companies can also get in on one of the driving forces behind flexible shared office spaces. In a creative environment where members connect to collaborate, you can diversify your company's offerings, by harnessing some of the collaborative energy that flexible shared office spaces embody.
Flexibility and savings
One of the major appeals of flexible workspaces is the tremendous amount of time and money to be saved when compared with leasing commercial spaces. In addition to flexible monthly contracts, coworking spaces feature turnkey opportunities that include operational expenses, such as management and maintenance along with everything you need to work every day from business class equipment to coffee, tea, water, and snacks in upscale, well-furnished spaces. The nature of flexible shared office spaces allows companies to adjust their contracts to their needs as these needs change. More large companies are choosing to bring everyone to work in new corporate offices at coworking spaces. Groups may meet indefinitely in a coworking space or you can rent a space for special projects in different locations that place teams close to the project they're working on at that time. Conference rooms are available for larger gatherings or training sessions and locked, private offices offer the personal space that some may need to better perform their job.
Coworking is definitely here to stay! The pandemic brought into sharp focus the different ways people can work and the many ways people desire to work moving forward. As agility steers more business, coworking office spaces will continue to accommodate all types of businesses in offering private office suites and shared desk spaces that cater to the creative environment you need to navigate to work in these changing times. CoSuite features open, welcoming spaces designed with you in mind. In this increasingly mobile business landscape, CoSuite's upscale locations in Brickell-Miami and Boca Raton offer live receptionist service, premium amenities, and everything you need to keep businesses and their employees happy and productive.
If your business is looking for coworking spaces in Miami or Boca Raton, we invite you to schedule a tour and see for yourself why coworking is here to stay.