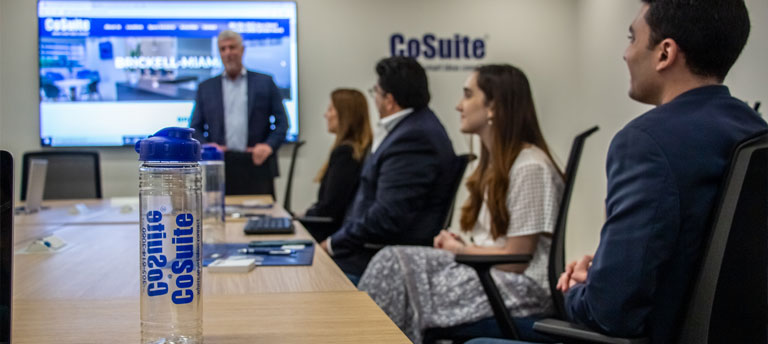 Flexible Office Space – Closes the Gap for Remote Workers
March 2, 2021
Remote work is here to stay, but does your company have a strategy in place to close the gap on amenities employees need to do their best work like conference rooms, meeting spaces, or flex space to work when home distractions become too much? What about a professional address and place to send mail instead of the homes of key employees? Coworking spaces like CoSuite can be a valuable tool in your company's remote work strategy. Flexible day passes, terms, and amenities employees need will play a key role in ensuring your company remains productive.
The office landscape is indeed changing
Traditional office spaces may begin to look more like collaborative spaces. Now that companies are reopening as the Coronavirus vaccine is paving the way back to some semblance of normal, large companies are rethinking their strategies moving forward, by bringing in more staff but finding that some of their employees could successfully work from home for the foreseeable future. In the early days of the pandemic, many workers were okay working from home but then, as pandemic fatigue took hold, remote workers wanted to work from a place that was completely separate from their homes. There's something about the spontaneity of working around other people that inspires creativity that you just can't get in a virtual meeting. Speaking about the future of offices, Microsoft Cofounder and philanthropist Bill Gates, in a CNBC interview said that, although the online experience can be improved, he "didn't think we'll completely eliminate having those foundation offices and people coming in and doing face to face meetings." In the meantime, flexible shared office spaces, such as CoSuite, offer companies hybrid solutions between going into the office and continuing to tough it out at home. Flexible shared office spaces may become a permanent feature for many businesses.
Hybrid schedules – a happy medium for employers  and remote workers
If employers want their employees to continue to work from home for the foreseeable future, home offices will need to be more functional. When companies factor in upgrading employees' home office spaces with more sophisticated equipment or maintaining a large office building to bring employees to in social distanced groupings, flexible shared office spaces keep coming up as the most workable solution.
Large companies might reinvent their office spaces
Of course, some larger companies may decide to downsize their physical presence and set up shop in flexible, shared office spaces themselves, taking over entire floors of existing flex spaces partnering with flex spaces to reinvent themselves as flexible shared desk spaces, in the same space that housed their headquarters, pre-pandemic. The pandemic may be leveling the playing ground between traditional office spaces and coworking/flexible shared office spaces.
Community is the thing
These developments towards more flexible office environments shed light on the fact that people want more than upscale working spaces and great furniture from flexible, shared office spaces. People want to belong to a community. People forced into remote work situations by the shutdown are especially in need of a place to interact with other people from their business communities. Community sparks collaboration. Companies that can accommodate their remote employees who need a break from working at home stand to gain more as people working in community-driven spaces tend towards more productivity. Flexible shared office spaces, such as CoSuite Brickell-Miami and CoSuite Boca Raton offer flexible day passes and more customized terms to accommodate companies and remote workers, during this epic chapter of all of our lives. Large companies can allow remote workers to work at their local CoSuite a few days a week, several days a month, or whatever blend of remote and flexible shared office works best for everyone involved.
Intact in-person meetings
To keep projects going and internal teams working together in person, companies can opt to secure a private office suite in a flexible shared office space. Designed with you in mind, CoSuite specializes in a variety of private office suites that fit your company's needs for ongoing in-person work. Your team can brainstorm and share sensitive proprietary info, in the privacy of one of our business-focused office suites and then split into breakout groups in break areas, with options indoors and outdoors. Fully audio/video equipped corporate meeting and conference room hours are included in private office plans and are available to all members at reduced hourly member rates, as well.
Virtual Office plans present a great option
Some businesses that need a conference or meeting room at times but are fine working at home or just don't need a physical office to work out of, are taking advantage of Virtual Office plans at flexible shared office spaces. Since businesses started reopening, not surprisingly, Virtual Office memberships have become a way to stay connected to your local flexible shared office space community during the pandemic. CoSuite Virtual Office plans include a prestigious, professional mailing address to enhance your brand, with mail and package handling services, as well as live receptionist service and message forwarding service. You can check your messages from home, on the road, or from any place your business takes you. At CoSuite, Virtual Premium Plans also include five hours per month of location access, so you can stay connected to your CoSuite community. Companies can set remote workers up with Virtual Office plans, so they can receive mail, packages, and messages at a professional address and meet with clients and/or work in a professional upscale location, adding flexible day passes when needed.
CoSuite can help your company strike a harmonious balance between your employees working at home and working where they can interact with other business professionals. With remote workers wanting to interact and reconnect with other business professionals and large companies wanting to reduce office overheads by leveraging the advantages of a remote workforce, flexible shared office spaces can be the key to keeping your company productive. CoSuite can accommodate your remote workers in our spaces that offer the safety and privacy of private office spaces and well-positioned shared desk spaces in Boca Raton and Brickell with all the amenities workers need to do their best work.
Contact CoSuite to learn more about how we can help your business keep growing and close the gap for your remote workers.