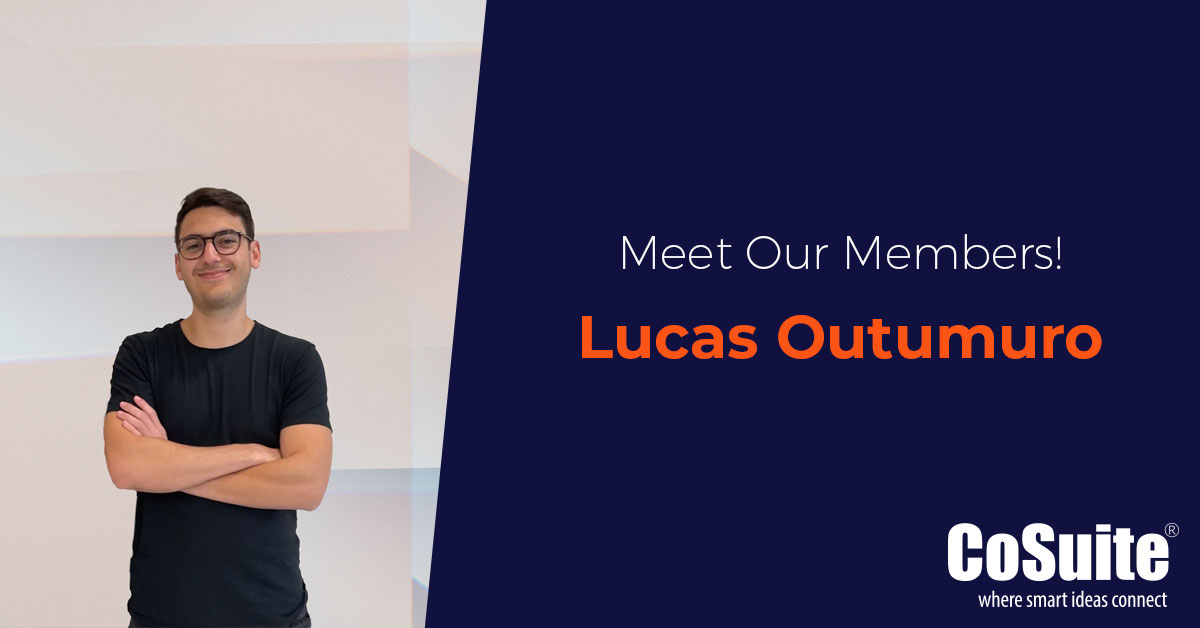 Meet our Members – Lucas Outumuro
August 19, 2021
Post-Pandemic Fintech in Miami Coworking
Post-pandemic, flexible/shared office spaces' demand see trends similar to those after the Great Recession in 2008 when companies had to get back on track and coworking spaces provided solutions for restructuring with turnkey business office environments. Commercial leases in good neighborhoods were growing increasingly prohibitive; established small, medium and large companies sought the surroundings of flexible or shared office spaces with other professionals on the same trajectory. As businesses began to grow in flexible, shared office spaces, some decided to move into private office suites and grow in place, rather than disrupt their expansion by moving into a commercial office space.  
Modern day flexible, monthly contracts have come a long way since the post-Great Recession in 2008. Everything you need to do business is included in your membership agreement. Many tech startups and entrepreneurial ventures chose to work in coworking spaces. This saved money on extensive commercial leases and office setups and  allowed these businesses to leverage the community atmosphere that set these spaces apart from traditional office settings.
During the pandemic, while most coworking or shared office spaces scrambled to adapt to CDC guidelines regarding social distancing, CoSuite held its own, as a leader in the trend towards private office spaces in a shared office environment. Designed with you in mind, CoSuite Brickell-Miami and CoSuite Boca Raton are committed to making sure our members are well taken care of during each working day. With welcoming open spaces, our locations provide live receptionist service in addition to the creative atmosphere, upscale amenities, and superfast Internet that make every day a success. CoSuite's commitment to providing a safe environment for its members includes thorough daily cleaning in addition to ongoing disinfection of surfaces. As an added precaution, single serve snacks are offered for members and UV light hand sanitizer dispensers are installed at CoSuite locations.
While some businesses suffered during the pandemic, industries such as technology and financials thrived. Financial firms represent a major sector in Downtown Miami and Brickell. As the third-largest financial center in the country, Brickell has significant ties to Latin American financial firms and an international presence as a financial center. 
In the face of dramatic and expensive ransomware hacks, such as the $4 million that Colonial Pipeline paid to the Russian hacking group DarkSide, blockchain technology is moving to the forefront as a means to prevent these cyberattacks that put many at the mercy of cyber-criminals. For a while now, victims have been quietly paying cyber-hackers their ransoms, as they find themselves in no position to refuse. Blockchain technology involves a system of recording information that makes it difficult or impossible to "change, hack, or cheat the system," according to Euromoney.com. Essentially, a blockchain consists of a "digital ledger of transactions that is duplicated and distributed across the entire network of computer systems on the blockchain." 
An Inside Look
This month's CoSuite spotlight highlights a member who works for a blockchain technology company as a Senior Analyst. Of Venezuelan descent, Lucas Outumuro works for IntoTheBlock  at CoSuite's Brickell-Miami location. Financial firms represent a major sector in Downtown Miami and Brickell. As the third-largest financial center in the country, Brickell has significant ties to Latin American financial firms and an international presence as a financial center. We asked Outumuro to share his experience at CoSuite Brickell-Miami with us. He told us, "I'm a Senior Analyst at IntoTheBlock. I have been working here for a year and eight months, leading our research efforts. IntoTheBlock is a data science company applying cutting-edge research in AI to deliver actionable intelligence for the crypto market. Outumuro's work has included, "leading research of new product offerings, such as DeFi and derivatives analytics, and using data to analyze quantitative yield-generating strategies with crypto protocols." Additionally, Outumuro "publishes articles and hosts webinars analyzing and explaining crypto, as well as coordinating widget design and integration with B2B partners." Outumuro shared that he became interested in blockchain technology because of "its fast pace of innovation." He shared other insights about his experiences at CoSuite Brickell-Miami:
     

How has your business been impacted by COVID-19?
IntoTheBlock's business has accelerated due to greater interest.
     

What is the most rewarding or fulfilling aspect of your job?
Releasing a major update to the product after months of research.
     

Share a little about your experience at CoSuite. When did you become a member? Why did you select CoSuite? What has been the best part about working at CoSuite?
I became a member in September 2020, it has a great space in a central location.
Up Close with Lucas Outumuro
When asked what has been the greatest inspiration in his career journey, the senior analyst honored his family, revealing, "My grandfather who migrated from Venezuela without much and managed his way to become an entrepreneur." In his free time, Outumuro enjoys playing poker and also playing a few sets of tennis with friends. Lucas also shared that the book What You Do is Who You Are by Ben Horowitz spoke to him and stated that "It gives great examples of people who have pushed themselves and people around them to a higher standard to succeed."
CoSuite Brickell-Miami is centrally located just south of downtown Miami, making it a convenient location for ambitious financial professionals. CoSuite offers a flexible, upscale office environment for growing innovative Miami enterprises, as we emerge from the pandemic. As IntoTheBlock grows, Outumuro can easily modify his current monthly plan at CoSuite, upgrading to a larger office or adding additional offices if needed. In Miami's rapidly growing financial district, CoSuite Brickell-Miami is an ideal place to grow your business, while we work to make every work day a resounding success.
Contact CoSuite to learn more about CoSuite Brickell-Miami and your future flexible workspace!