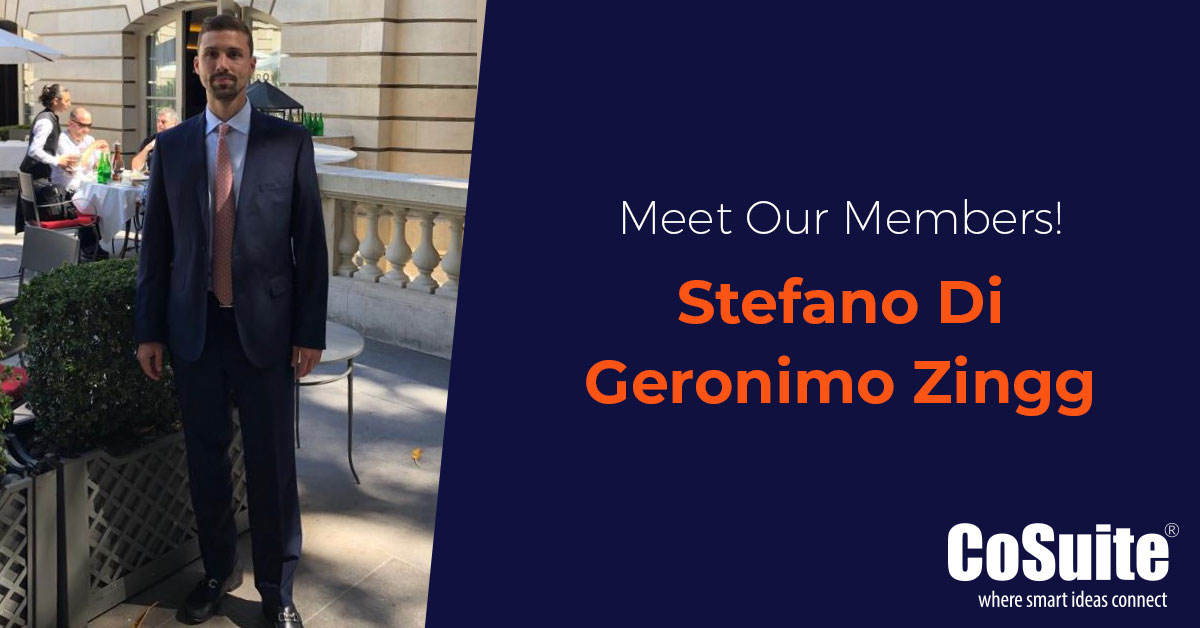 Meet our Members – Stefano Di Geronimo Zingg
March 29, 2021
As we start to see the light at the end of the COVID-19 pandemic tunnel, flexible shared office spaces are more in demand now than ever before. Thought by some to be an endangered species at the beginning of the shutdown, coworking and flexible shared office spaces have emerged as a smart and practical option to bridge the gap between remote work and going into the office. Some businesses have seen tremendous growth during the pandemic, such as e-commerce vendors. With the demand for online shopping moving more inventory than usual, e-commerce businesses can easily add team members to their plans or move into larger offices with no disruptions. Financial markets, such as mortgages and refinances can do likewise, with flexible, monthly terms and a variety of office and coworking space options to choose from to fit your needs. At the same time, as in the Great Recession, companies who are restructuring and reinventing themselves to survive can take advantage of flexible, monthly terms that flexible workspaces offer, without sacrificing any of the necessities you need to conduct your business every day.
Remote workers are seeking a motivating atmosphere away from home, where they can work in comfort and style in an environment that has everything you need to work with every day, such as CoSuite Brickell-Miami. In a flexible space designed with you in mind, our private office suites are ideal in these times where social distancing regulations are still in place. People like to work where they feel inspired. CoSuite Brickell's open, welcoming spaces encourage creativity and collaboration with coffee and break areas that get you going and let you relax, with all-day coffee, tea, and filtered water, live receptionist service, and high-speed Internet. As we move closer to the end of this life-changing pandemic, we take an inside look at a member whose CoSuite experience began in February 2021.
An Inside Look
Downtown Miami and Brickell represent the third-largest financial center in the country, a perfect place for Venezuelan native, Stefano Di Geronimo Zingg, the managing partner of a blockchain technology consulting company, Union Block, to grow his business. "I became a member at the end of February, working at CoSuite Brickell-Miami, and it is definitely comforting to work outside the house." Zingg continued, saying, "I like CoSuite's network and the interior design." He is also involved in developing a "Digital Assets Exchange" based in Miami, Zingg shared some things with us about his business and personal journey up to this point.
How did you become interested in this industry?
I had developed a passion for technology since my childhood, and through curiosity, I discovered Bitcoin. I had been mainly focused on understanding the constantly evolving technology and how it will radically disrupt and innovate the future of finances.
How has your business been impacted by COVID-19?
Luckily, our company has been positively impacted by COVID-19.
What is the most rewarding or fulfilling aspect of your job?
I am always amazed by the crypto narrative; it is impressively dynamic and with constant innovation. Just keeping up with the masterminds behind the industry is a pleasurable journey.
What is the biggest challenge that you have faced as a business owner (or on your career path) and how did you overcome it?
I managed a family and friends crypto fund, as my first working experience. A roller coaster for sure. However, those experiences and knowledge developed from it will be crucial for my future success.
Who or what has been the greatest inspiration in your career journey?
Technologists are my greatest inspirations. Hal Finney (AKA Satoshi Nakamoto), Nick Szabo, Steve Jobs, Elon Musk, Chamath Palihapitiya, Cathie Wood, Micky Malka, Ray Dalio – a few of the people I follow closely. Their minds live in the future.
Up Close with Stefano Di Geronimo Zingg
Sharing some tips and words of wisdom for other professionals just getting started in finding what they love to do in business, Zingg told us that, "As Venezuelans, we had been trained to look for opportunities within adversities." He continued, offering these suggestions to entrepreneurs and young business professionals, "Keep reaching and hustle for your dreams. Always maintain high standards of moral values." In his free time, Zingg says there's "nothing more satisfying than kitesurfing," adding, "I like playing soccer as well." When asked about a quote or a book title that speaks to him, he invoked one of the most innovative minds of our time, Elon Musk, saying, "Who controls the memes, controls the Universe."
CoSuite Brickell-Miami makes a convenient, flexible office environment for ambitious business professionals, like Stefano Di Geronimo Zingg, growing their innovative Miami enterprises during the pandemic. As Zingg's business expands, his company can modify its CoSuite flexible, monthly plan to upgrade to a larger office, add additional offices and more without missing a beat. In Miami's rapidly growing financial district, CoSuite Brickell is a great place to grow, while we keep your safety intact.
Contact CoSuite today to discuss our flexible space solutions in Brickell-Miami and Boca Raton.