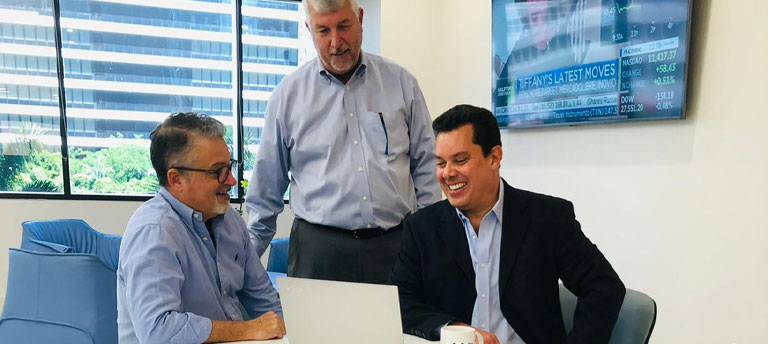 New Year, New Office Space – How to Design Your Workspace for Success in 2021
January 27, 2021
If your home contains dedicated office space or something you've turned into a work area as a result of having to work from home, maybe it's time to rethink this space for the new year. Is it really working for you? Are you constantly having Internet issues? Are your children interrupting your thoughts every few minutes? Is the dog barking while you are on important calls?
Even if working from home was not that difficult of a transition for you in the spring of 2020, the newness may have worn off by now. And it is likely the distractions are still there, and possibly worse than ever. It might be time to rethink your workspace in 2021 and design a workspace where you can be successful. A change in scenery a couple of times a week can work miracles in keeping you motivated and keeping your business growing in 2021.
Flexible shared workspaces
Have you given thought to a coworking space as a better option? If you're a business owner or an employee who has been working from home as a result of the pandemic and still find yourself living and working in the same place with no real end in sight, flexible shared office spaces, such as CoSuite Boca Raton or CoSuite Brickell-Miami can provide affordable and sensible solutions to balancing your work life with your downtime. Designed with you in mind, CoSuite inspires creativity and is geared toward private office suites, along with shared desk spaces facing beautiful outside views.
Did you know that 89% of coworkers report feeling happier after joining a coworking space? And, 83% of coworking members report feeling less lonely. When you consider working from home for long periods, you may not have considered how important it is to feel more connected to others but we know that happiness and connection with others undoubtedly translate into increased productivity. At CoSuite, we have intentionally designed spaces that will help our members increase their productivity so they can be successful in their job role as well as happy.
Getting out of the house to work one or two days a week from a CoSuite location not only provides a change of scenery that can spark new ideas, but it can also:
Help you focus on the goals you need to grow your business without the constant distractions of home.
Provide the stable Internet access you have been needing for months.
Stay relevant within your local business community.
Safe networking opportunities allow for new connections to keep your business moving ahead.
Offer opportunities to collaborate with other CoSuite members.
Lead to more client potential through your relationships with other members.
Larger companies can schedule meetings with remote teams that need in-person interaction for projects.
Flexibility in where, when, and how you work keeps people motivated and engaged in growing their businesses and navigating the new year towards a successful 2021. CoSuite's flexible office spaces in prominent areas in South Florida offer the safety and security you need. This safe alternative to working from home will undoubtedly impress your clients because of the professional design of the spaces and allow for enriched connections and interactions with other professionals in Boca Raton and Brickell. CoSuite's comfortable, inviting spaces are geared to optimize the human experience at work from Boca to Miami.
At CoSuite, we relish the way you want to work. We're here to help you succeed in 2021 – book a tour today!