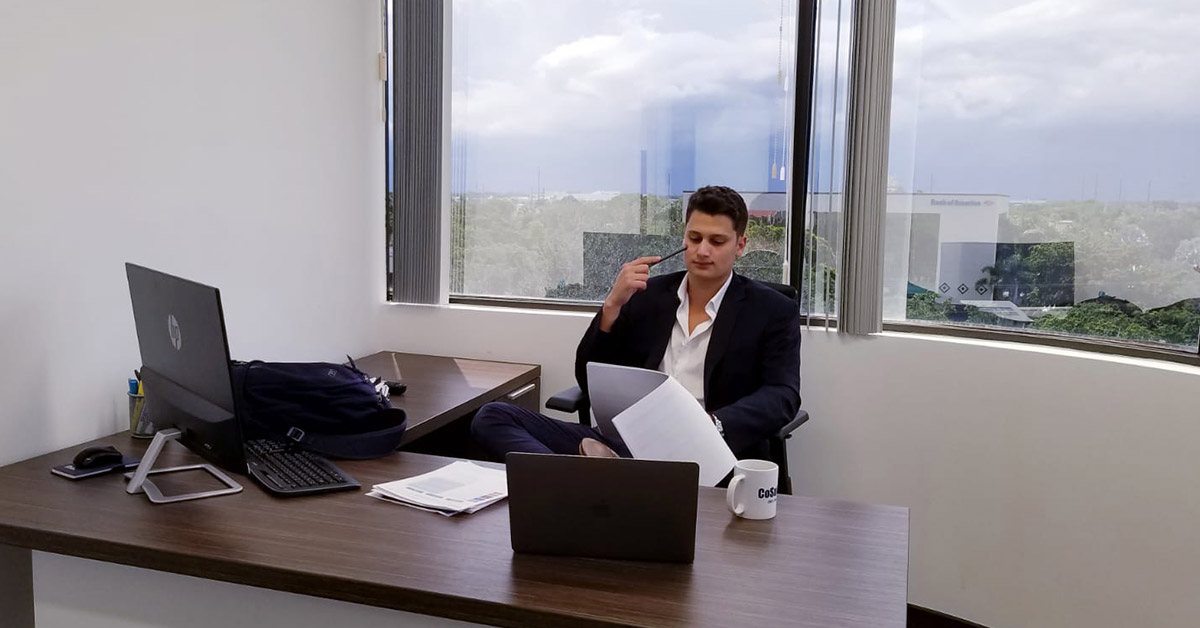 Saying Bye to Work from Home & Hi to a More Flexible Future
August 20, 2021
Saying bye to working remotely from home might be hard for some and a welcome departure for others. COVID has created new work/life challenges and challenged us to consider our preferences in terms of working in the office and working from home remotely. For most, we found the grass isn't always greener at home. In this article, we discuss some of the pros and cons of working from home, what we missed about the office, and why the future might look a lot more flexible. Many people are ready for a  return to the once-familiar office setting,  but some prefer to work at home. Others would be happy with a hybrid schedule of some remote working days and some in-office days.
The pros of working from home
Saving money
Working remotely from home, we save money on gas and the maintenance of our vehicles. People that rely on public transportation also save money normally spent on fares and passes. Less money is spent on work attire and accessories, dry cleaning,  and meals. For some people, working from home also allows for saving on childcare expenses.
Saving time
Working remotely from home also saves people time by doing away with long, frustrating commutes. Beginning the workday in a better frame of mind than after a stressful commute increases productivity for some people. Many find more time to devote to preparing healthy meals and dining as a family when they work remotely.
However, after a while, the novelty of staying at home all of the time began to wear on people, as kids began to get restless with their Zoom classes and boundaries between working from home and kids learning from home started to collapse a bit with pandemic fatigue. Some of the other things we didn't love about working at home started to take their toll and most people were chomping at the bit to work from anywhere but home.
The cons of working from home
Isolation
According to a Martec Group survey, out of "1,214 individuals across various industries, demographics, and seniority levels," only 16% of remote workers "thrived" working from home during the pandemic and want to remain working remotely for the foreseeable future. Most others are experiencing some of the downsides of working from home, such as feeling isolated.Workers whose other family members or roommates are working outside the home for the major portion of the day tend to experience a feeling of isolation. Even with family members around, at some point, most people miss interacting with friends and business associates. During the pandemic, video conferencing worked well for business meetings, and some social encounters but the once-removed nature of Zoom meetings can never replace the spontaneity generated by the direct human reaction.
Distractions
While some studies show that people can focus more when working remotely at home, others show that some people work better with the structure of a workday at the office. Working from home can present many distractions that make it difficult to set boundaries for a work schedule that doesn't carry over into your personal life. Often those lines start to blur due to family member needs, kids and pets making cameo appearances during your Zoom meeting and the infinite number of chores that can keep vying for your attention while you are trying to focus on your work. Also, some people have a hard time putting their work down and continue to work, even during personal time
Mental and physical health
Working from home for long periods not only leads to a feeling of isolation and loneliness for most people, but it can also affect physical health. While you might not be eating junk food at the office, the pandemic revealed that people were eating more often and snacking more on that junk food they were missing at the office. Then, everyone was surprised when they put on the COVID-15 (pounds). Adding to the extra intake of calories, a lot of people engaged in less physical activity than they did getting to and from work. Some people worked physical activity into their days, working out at home, walking, biking, or roller skating to stay fit during the pandemic.
For those employers that are demanding their employees stay 100% remote and those remote workers that need social interaction, coworking at flexible shared office spaces offers a flexible way to meet the demands of both remote work and social interaction.
Meeting the demands of a flexible workforce
As businesses transition past the pandemic into more flexible workspaces, employers can take advantage of flexible shared spaces to accommodate in-person meetings for various team members. Some projects require spontaneous interaction that only happens during face-to-face, in-person meetings. Working in flexible, shared office spaces, interacting with other members from other industries may inspire the innovative ideas that keep your teams moving towards their goals. Companies can benefit from flex workspaces, such as CoSuite to give their 100% remote workers the option to work in a flexible shared office space a few days a week or per month, to keep them in the loop with other business professionals as well as positively affecting their work/life balance and giving them a new perspective on their work.
For those looking for a hybrid schedule that allows some days at the office and some days away from home and the office working remotely, CoSuite has the solution. Our flexible workspaces in Boca Raton and Brickell-Miami can be made available for you when you need them. We offer flexible, personalized contracts for each business based on their team's needs and are happy to discuss those with you. And because we understand your remote work needs may change over time, when you are ready to modify your contract, we can do that too.
CoSuite meets the demands of flexible workspaces by offering employers and employees the best of both worlds. We're dedicated to helping businesses move forward with turnkey office opportunities in a creative work environment that motivates workers and provides your employees a collaborative environment that includes business-class equipment, high-speed Internet, live receptionist service, and a diverse community along with all of the amenities and services they need to say hi to a more flexible future!
Contact CoSuite for your flexible workspace needs in Boca Raton or Brickell-Miami.