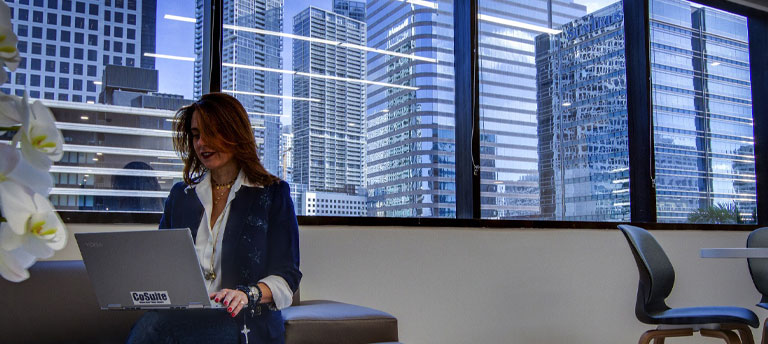 Scale Your Space – Not Your Growth
January 26, 2021
When you formulated your business plan, did you consider scaling your space as your company grows? While most companies include an expansion plan in their business models, most start-ups and small sole proprietor companies are so focused on establishing their brands that expansion plans take a backseat to establishing their present brand awareness. Even though e-commerce, financial services, insurance, and other online compatible businesses may be flourishing due to the uptick in online ordering, tele-visits, and virtual meetings, uncertainty still hangs over the economy's head as we continue to navigate COVID-19 into 2021. Holding off on leasing a larger or more professional office space until you're sure your expansion can support a move like that? We've got some ideas for you.
Have you considered a flexible, shared workspace? 
In times of uncertainty, flexibility in navigating your company's forward motion can make a huge difference. Flexible shared office spaces, such as CoSuite Boca Raton and CoSuite Brickell take a huge weight off of growing businesses in a myriad of ways.
Commercial Office Leases
If you are sorting through available commercial office rentals to find the perfect spot that you can grow into, you're most likely wrestling with a couple of issues, such as:
Why are there so many available office spaces?
Why are commercial office leases in prestigious neighborhoods so costly?
What happens if you rent a huge space and don't need that much room after all?
Why are commercial spaces leased for such a long period?
What's included in the commercial lease as far as business equipment and technology go?
Is parking for clients and employees available and if available, is there a charge for it?
When considering these and other preliminary questions that arise in your quest to locate the right commercial office space to lease, you might also consider what happens after you sign your life away, or rather, after you sign on the dotted line. You and your landlord should have an understanding or a written agreement of what your responsibility entails and what the landlord's responsibility is when it comes to maintenance and repairs, such as:
Does maintenance include office cleaning, and if so, is it just the exterior?
Does the building contract a commercial cleaning company or are you responsible for cleaning the interior of your office?
Can you hire your own commercial office cleaning company if this service is not included in your lease? Is your choice limited to their "approved" vendor(s)?
If you have extra space that you can't use, can you sublet it to another company, to recoup losses?
Then, when it comes to the day-to-day of running your office, who's going to manage things, such as:
Sourcing and ordering office supplies?
Sourcing and ordering business machinery and other office equipment?
Installing, troubleshooting, and updating technology?
Running to the store for coffee, tea, and filtered water supplies?
Who's going to make the coffee and stock the snacks?
What about high-speed Internet, is their availability now or will this be your mission to secure?
If you are a one-person operation, you are probably going to be doing a lot of the heavy lifting and all of the footwork it takes to run a growing startup yourself. However, there's an alternative to getting way outside of your comfort zone with a long term commercial office lease. Flexible shared office spaces, such as CoSuite, grow with you, without the baggage. Our flexible monthly contracts allow you to easily increase the size of your company, you can start small and easily expand while paying as you go.
Easily Scale Up as You Grow
Depending on your growth rate, configuring your plan to include shared desk space plans for an additional employee or two might be all you need until you move into your next phase of expansion. Your business might only need to meet with different teams at different times during a month, CoSuite can easily accommodate your needs as you grow. When you require a space to meet with clients or teams, CoSuite Conference and Meeting Rooms are available at hourly member rates and include everything you need to make a professional presentation.
Growing from Within
Joining a well-appointed, upscale, flexible shared office space opens more doors to your company's growth than you might think. First of all, monthly membership rates cost much less than leasing your own office. You can look forward to walking into your fully furnished office and going right to work on your very first day. Your private office membership includes the following amenities:
Working with business-class equipment in a fully-equipped business center
Going through your day with high-speed Internet consistently
Taking a break to enjoy a cup of coffee or tea
Work from anywhere you like, from our indoor lounge area to our outdoor patio if the mood strikes you
Other benefits of setting up your business in a flexible shared office that help grow your brand, increase sales, and strengthen bonds in your local business community?
Built-in network of professional business owners like yourself
You can set up a patio meet and greet and our Conference Rooms also provide a space for in-person meetings. Virtual events with other members can also spark interest in your products or services in your CoSuite community. This translates into more exposure for your products or services from member referrals to the larger local business community, as well.
Network of in-house human resources
CoSuites' diverse community of businesses offers you a wealth of human resources with many types of products and services represented. You are probably not good at everything you need to grow your business, so save time trying to find an excellent web designer, marketing pro, photographer, content writer, or other professional. Grow with who you know in your CoSuite community.
CoSuite Boca Raton and CoSuite Brickell-Miami help you grow your business by giving you the freedom to focus on your business, working anytime you like with 24/7 secure access. Designed with you in mind, flexible monthly contracts help you grow in the space your business needs when it needs to!
Contact CoSuite today to schedule a tour of one of our locations.