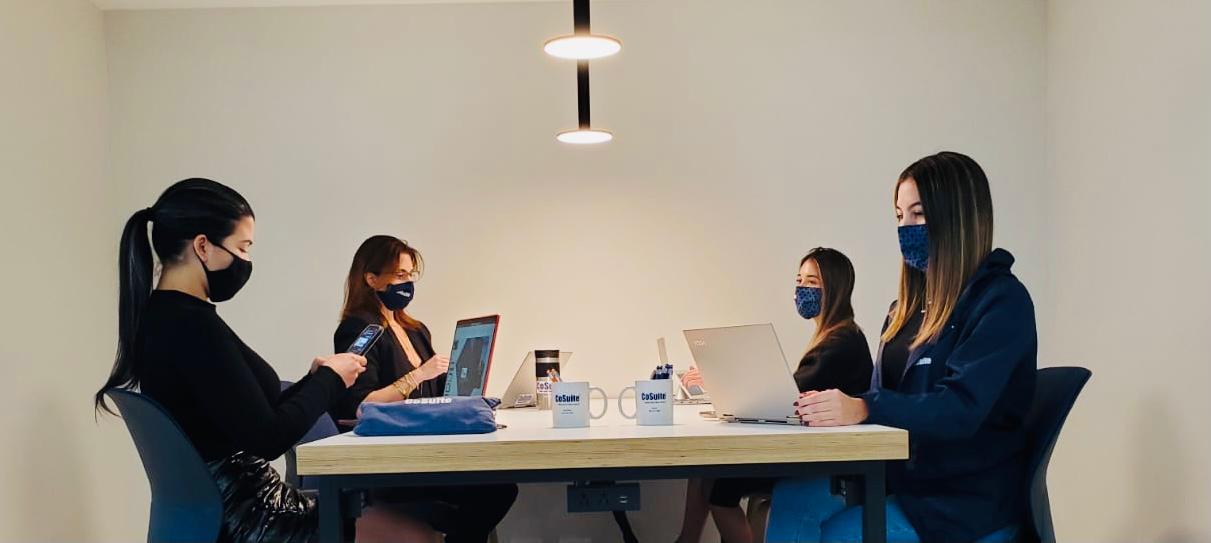 Why Flexible Workspaces Work in 2021
November 25, 2020
As the country began to reopen during the COVID-19 pandemic, some skeptics predicted that coworking and flexible shared office spaces would crash and burn, due to their reputation as places where people gather close together to network, share ideas and collaborate on the next great idea. The entire nature of coworking and shared office spaces seemed to go against the grain of the new normal but with sanitized spaces, social distancing measures, and face coverings, coworking members found their time at their flexible workspace to be a welcome and safe escape from home. And businesses have found coworking spaces to be the ideal solution during uncertain times.
Would coworking survive 2020?
Just as business owners were wondering if the coworking and flex desk space era had hit the skids, businesses looking to save money started joining their local shared office space companies, instead of spending considerable amounts of money signing lengthy leases for commercial office spaces. At the same time, large companies, not ready to reopen for "business as usual," needed a space for their employees to work that didn't involve the interruptions of roommates, spouses, children, and/or pets during the business day. Still, even though the networking would be different, business owners needed to connect with their flexible, shared space communities, to generate new business and utilize the talents of those communities for marketing, website development, photography, and/or legal needs of their businesses. Interestingly, coworking and flexible shared office spaces proved essential to all manner of businesses, especially in these uncertain times.
Flexibility is the key to surviving in 2021
During uncertain economic times, businesses that can pivot and/or downsize are more likely to survive economic downturns. It turns out that many more businesses looking at long term commercial leases or those preparing to renew their commercial leases are realizing the savings that flexible shared office spaces offer during these times. Walking the same path of many businesses during and after the Great Recession, many small and medium-sized businesses in the COVID-19 economy are seeing the benefits of joining flexible, shared office spaces. If your business needs to downsize for now, flexible monthly contracts allow you to scale back to save money, then, when business picks back up, you can easily scale up to meet your growing needs. Turnkey business solutions provided by coworking and flexible shared office spaces also save businesses the overheads associated with running a business, including purchasing and maintaining business-class office equipment, installing and updating technology, as well as expenses associated with office maintenance, cleaning, supplies, and the amenities needed to run the office day-to-day. Just as important, flexible shared office spaces provide consistent, reliable high-speed Internet connections that keep your business in motion in uncertain times.
Local flexible shared office spaces will keep business communities intact in 2021
Many businesses are struggling to stay afloat in these disconcerting times and many may have distanced themselves from their local business sectors due to the very nature of the pandemic. However, business communities in flexible shared office spaces can support each other during these times via the connectivity flexible shared office spaces embody. During these fluctuating times, some businesses may flourish in a worldwide crisis, as essential supplies and services are needed at an accelerated rate. Adding extra work areas, additional or larger office spaces can be as seamless as adjusting your next monthly contract to include the additional space and memberships. Many businesses may want to update their websites and marketing content to reflect their COVID-19 precautions and operational adjustments during this pandemic. While other businesses are not up to speed, businesses working out of flexible shared office spaces have adapted to this new normal, connecting members to the wealth of resources available from their fellow members.
Flexible shared office spaces provide a professional oasis for remote workers
Now that many businesses learned that their employees could actually work from home and could meet virtually with only minor hiccups, at this point, most remote workers would rather work anywhere except home. Large companies, not ready to open their doors to all their employees are taking advantage of flexible shared office spaces for their remote employees, who just want a real place to work. They want to provide a workspace for them without the interruptions and distractions of any work from home scenario. The need for a dedicated space to work, boosted the popularity of coworking spaces. The thrill of working in your pajamas paled in comparison to the idea of working in a place that increased your productivity and connected you with a business community. Startups and small businesses yearned for this in the early days of the coworking phenomenon.
But a few things had to change
While flexibility and resilience are built-in to the flexible shared office space model, some things had to change, maybe permanently as we move into 2021. Luckily, CoSuite has already geared towards private office suites and comfortable upscale spaces that facilitates social distancing in their floor plan designs. Adapting to working near each other but not necessarily in direct contact with other members will also play a major role in the way CoSuite locations safely function. While the pandemic continues to rage, many flexible shared office spaces have taken extra precautions per the CDC and WHO guidelines.
CoSuite locations take these precautions seriously, limiting the number of members in common areas, foregoing large social networking events for smaller conference room meetings, all while ensuring that members have access to everything they need to grow their businesses. Members can even downsize to Virtual Office plans that allow their company to keep its prestigious professional address while the CoSuite team handles mail and packages but limits physical contact at a CoSuite location.
CoSuite continues to make our members feel safe moving into 2021
Taking safety and health precautions to a higher level. The CoSuite team enforces social distancing, sanitizing, and requires that all members wear masks. CoSuite continues to navigate the pandemic, making their members feel safe. They welcome companies large and small to find the ideal fit for your business during these changing times. With amenities such as high-end furnishings, high-speed internet, and more, CoSuite offers businesses and individuals the safety and flexibility they need to work and be productive. Contact us today to schedule a tour!